Celebrating a Renewed Building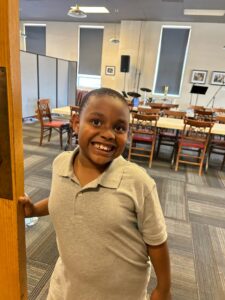 Anas returned to school on Monday, August 21, to find many changes to the building that had housed his school for the last seven years. He and his classmates found updated and enlarged bathrooms, improved lighting, freshly painted classrooms, additional office space, and resource space for the teachers and staff. In addition, the school office and the administrative team were moved to a smaller but well-suited area, which made room for our new classroom of 4th graders. We are so thankful for the generosity of Second City Church, which continues to be supportive of our expansion, as we consume more and more space in the building.
We are delighted to announce that due to the generous investment of our many donors like you, who committed over $75,000, the cost of this year's building renovations has been completely covered. Matt Long and Harrisburg By Design not only did excellent renovation work, but they went above and beyond the call of duty to improve our space for the students, replacing lights, updating electrical wiring, and addressing other issues that weren't directly related to the original scope of work. Their efforts went a long way toward making our school a place that can serve Harrisburg students for years to come.
Many thanks to the Logos staff and others who invested many hours to prepare the space for our students, including Deloitte Consulting, Derry Presbyterian Church, the Lutz family, and many other volunteers too numerous to mention.
The building we use was built in the mid-1800s to house the neighborhood school. In the 1950s, Second Reformed Church (now Second City Church) purchased the building for its fellowship hall, Christian education classes, and children's and youth ministries. For many years the Second City congregation has been praying for a school for the community. Seeing this become a reality over the last eight years has not only been an encouragement to this local congregation, but a blessing to the community, as well.
Your investment has made all of this possible. Thank you!